Ordering Process
How to Order
The best way to begin an online order is to take a look at our amazing photos and to browse through the options for different sizes, patterns and designs and then click the 'Shop Online' menu item at the top of your screen to get started.
If you do not see what you are looking for, you can always give us a call or send us an email and we will be more than happy to assist you.
Process for ordering a bit:
1) Choose a shank
2) Choose a mouthpiece
3) Decide if you would like the bit plain or mounted with decorative silver
4) If you want silver, choose your design or provide us with your requested customization (i.e. brand, initials, etc)
5) Most custom bits take 1-2 months to be completed. Some can be faster. Hand made products take time
Process for ordering spurs:
1) Choose band width
2) Choose a shank
3) Choose the rowel (shape and size)
4) Choose your artwork – you can choose one of Kerry's handcrafted designs or design your own
5) Most custom spur orders take 6-8 months to be completed. Hand made products take time.
You can rest assured:
Ordering such a big ticket item online may seem a bit unsettling; however, rest assured that we will be in touch with you throughout the process. Once your order has been placed we will contact you through your preferred method (either via email or phone) to inform you that your order has been received and the estimated time period for completion of filling your order.
We typically ship UPS, for tracking and insurance purposes, therefore we will need a physical address, NOT a PO Box.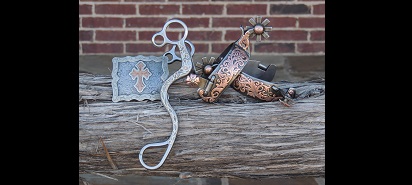 Ready Made
Bits, Spurs, Buckles and Conchos currently in stock